originally published at Sport - IGP Beauty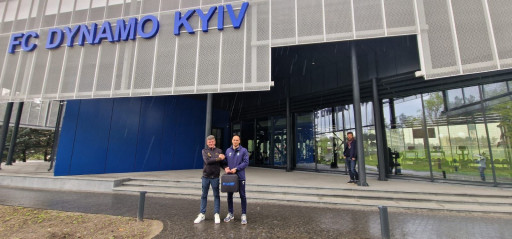 FITLIGHT and its Polish partner CZAS Reakcji donate neuro performance equipment to FC Dynamo Kyiv for their brand new rehabilitation center for those affected by the war in Ukraine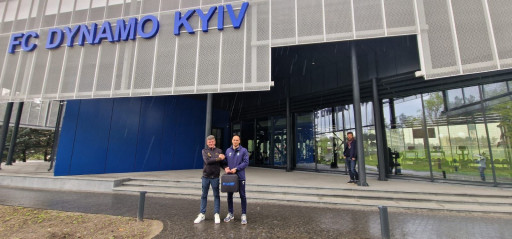 FITLIGHT-Czas Reakcji @ FC Dynamo Kyiv
Personal drop off of FITLIGHT Equipment at FC Dynamo Kyiv
KYIV, Ukraine, June 21, 2023 (Newswire.com) - FC Dynamo Kyiv is excited to announce that their organization has received a generous donation from FITLIGHT®, which includes a complete FITLIGHT® system, to be used at their brand-new sport-rehabilitation center in Kyiv to help those affected by the war in Ukraine.
FC Dynamo Kyiv is one of Ukraine's most successful football clubs, having won 29 Champions titles, 13 Ukrainian Cup titles, and nine Ukrainian Super Cup titles. In addition, FC Dynamo Kyiv has had numerous appearances in European competitions such as the UEFA Champions League and Europa League.
FITLIGHT® is a leading provider of innovative training systems designed to help athletes improve mental and physical performance. Their products are used by professional teams worldwide, including teams from all major soccer leagues worldwide.
The FITLIGHT® System gifted to FC Dynamo Kyiv consists of a series of wireless LED lights that can be programmed for various drills and exercises. The system helps coaches create personalized training sessions focusing on specific skills such as decision-making, reaction time, agility, speed, and endurance.
"Despite such a difficult time, we were determined to travel to Kyiv, but we are not afraid of challenges," says Pawel Gzielo, CEO of CZAS Reakcji & FITLIGHT® Poland. "With the support of Andriy Deremchik, we provided a FITLIGHT® set to our neighbors. As a representative of FITLIGHT® and as a neighbor of FC Dynamo Kyiv, we will ensure to support their development regarding football training."
Vitaly Kulyba, physical training coach of FC Dynamo Kyiv: "Although Ukraine is struggling, we are strong. With the opening of the special training sport-rehabilitation center in Kyiv, we are so happy with the partnership with FITLIGHT® that is so important for our operation."
"We are proud to help out those in need within the Ukrainian community," says Rob Bouw, Director of Sales for FITLIGHT®, "We look forward to seeing how they will utilize FITLIGHT® for their rehabilitation center and will continue to monitor the situation in Ukraine closely. We wish FC Dynamo Kyiv all the best and strength they need to endure these difficult times."
FC Dynamo Kyiv looks forward to utilizing FITLIGHT® at their sport-rehabilitation center. The donation was made possible through a partnership between FITLIGHT® & their partner, FITLIGHT Poland.
About FITLIGHT®
FITLIGHT® specializes in creating equipment and technology applicable in sports, healthcare, and tactical industries for all to pursue performance excellence. FITLIGHT® aims to change how performance is measured and to be the global leader in revolutionizing human performance by offering interactive, adaptable, and measurable training solutions by improving the relationship between the brain and body.
For more information, visit https://www.fitlighttraining.com.
Connect / Follow FITLIGHT®
LinkedIn | Facebook | Instagram | Twitter
Contact Information:
Rob Bouw
Director of Sales FITLIGHT
info@fitlighttraining.com
+17866501107
Original Source:
FC Dynamo Kyiv Outfitted With FITLIGHT System for New Rehabilitation Center
The post FC Dynamo Kyiv Outfitted With FITLIGHT System for New Rehabilitation Center first appeared on RSVTV news.
Sport - RSVTV news originally published at Sport - RSVTV news