originally published at Health - Purple Foxy Ladies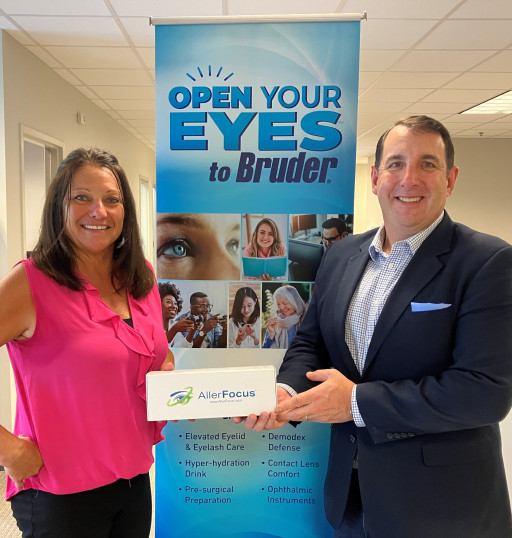 Mary Jackson, AllerFocus, and Brent Jones, Bruder Healthcare
Mary Jackson, AllerFocus, and Brent Jones, Bruder Healthcare
ATLANTA, June 21, 2023 (Newswire.com) - Bruder Healthcare, a Hilco Vision Company, and a leading provider of eye care products including the #1 doctor-recommended Bruder moist heat eye compress, announced an eye care industry distribution agreement with Tallahassee, Florida-based AllerFocus for its Percutaneous Allergy Test, an easy-to-use, pain-free, needle-free allergy screening for 78 of the most common airborne and environmental allergens. Since one in three individuals suffer from eye allergies, the need for an allergy test to determine possible impact on eye irritation is important. Patients suffering from eye-related allergies can experience watery eyes, itchiness, sensitivity to light, redness, and grittiness like the symptoms individuals experience with dry eye.
With dry eye disease being a multifactorial condition, Bruder was looking to add diagnostic help for eye doctors. "AllerFocus marks a significant addition to Bruder's comprehensive line of eye care products, adding a crucial diagnostic solution for eye doctors in their treatment of patients," said Brent Jones, General Manager of Bruder Healthcare and Global Head of Dry Eye at parent company Hilco Vision.
Why It's Crucial
One in four adults have seasonal allergies, according to the Centers for Disease Control and Prevention (CDC) that can affect the eyes. U.S. Pharmacist reported that allergic conjunctivitis, one of the most common ocular allergies, affects up to 30% of the general population. "The chances are significant that some eye complications are caused by allergies. AllerFocus enables doctors to discover if pollen, animal dander, dust mites, grasses, mold spores or other environmental airborne antigens are to blame," said Mary Jackson, founder of AllerFocus.
What It Includes
AllerFocus relies exclusively on skin contact to identify which allergens cause skin reactions. Doctors receive a supply of the 78 allergens (shipped cold), dip well tray sets and storage containers, 10-prong sterile testing applicators, measurement tool, and documents, including an allergy health assessment form, test prep card for patients, test signature forms, and color-coded test report form, plus marketing materials in English and Spanish. An allergen description book and allergen test cart are also shipped in the first delivery to doctors. Each kit contains enough testing materials for 40 patients.
Once preparing the dip wells in the tray, and inserting the 10-prong applicators, four separate applicators are applied per arm to the patient. About 15 minutes later, eye care staff can measure the size of the flare or skin reaction among the 78 allergens compared against the two controls, indicating one of five levels of allergy. From there, doctors can advise on allergens to avoid, and patients may decide to seek treatment from an allergy doctor.
Where It's Going
"This strategic alliance aligns with our vision of empowering healthcare professionals and improving patients' quality of life through advanced technologies. With AllerFocus, we are confident in our ability to set new standards in diagnosing eye-related allergies," added Jones.
"We are delighted to team up with Bruder Healthcare, a recognized leader in eye care. Their dedication to excellence and strong distribution network will undoubtedly amplify the reach and impact of AllerFocus. Together, we will transform the way allergies are diagnosed, benefiting countless patients," added Jackson.
About AllerFocus:
Based in Tallahassee, Florida, AllerFocus gives practitioners the ability to skin-test patients for allergies and offer options for their patients to become desensitized within three to four years to the symptom-causing allergens. More at allerfocus.com.
About Bruder Healthcare:
Bruder Healthcare designs and markets therapeutic and ophthalmic medical products to professionals and consumers around the world, including the #1 doctor-recommended moist heat eye compress. Our broad line of proprietary products provides relief for the millions of people who suffer from pain, dry eye, and other ocular surface conditions. Bruder Healthcare is a part of the Hilco Vision family of eye care brands and companies. Open your eyes to bruder.com.
Contact Information:
Stan Samples
Senior Mgr, Marketing Communications
stan.samples@bruder.com
770-410-0726 x231
Related Files
AllerFocus-Information.pdf
AllerFocus-Tray-Photo.png
Original Source:
Bruder Healthcare Expands Dry Eye Portfolio With Eye Care Distribution of AllerFocus Percutaneous Allergy Test