originally published at Health - Purple Foxy Ladies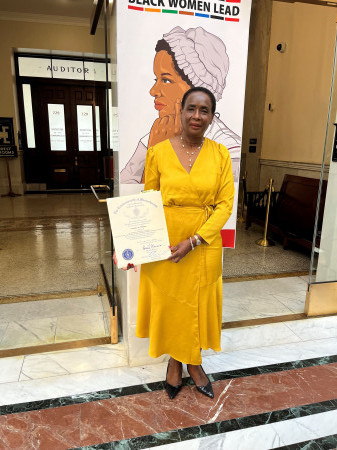 Frederica Williams, Black Women Lead
Frederica Williams, Black Women Lead
BOSTON, May 15, 2023 (Newswire.com) - Frederica M. Williams, president and CEO of Whittier Street Health Center, a community health center with a mission to serve as a center of excellence that provides high-quality and accessible health care and social services that achieve health equity, social justice, and the economic well-being of a diverse patient population, was among 200 Black women honored during a May 12 special event at the Massachusetts State House hosted by Amaka Ubaka of Channel 7 News.
The 200 honorees represent all Black women who have worked tirelessly to make the greater Boston area a better place since the 1700s. The list was determined by members of the Black Women Lead Honorary Committee who researched the lives of Black Women leaders from the greater Boston area from the 18th century through the present.
In addition to Williams, the distinguished list includes Joyce London Alexander, the first African American to be appointed Chief Magistrate judge in the United States, and Chloe Spear, an African-born woman who authored "Lady of Boston" and lived both as a slave and free woman in Boston.
"To be included in such an illustrious list is a true honor," said Williams. "The contributions that these Black women leaders have made over the centuries are immeasurable and a testament to their intelligence, talent, determination, and strength of mind and character.
"This award represents all the Black women on whose shoulders I rest - my family, colleagues and patients at Whittier," Williams continued.
The event was presented by Boston City Councilor Brian Worrell, State Representative Christopher Worrell, and Ed Gaskin, executive director of the Greater Grove Hall Main Streets, with support from The Kraft Foundation.
The Black Women Lead Honorary Committee members include Senator Elizabeth Warren, Attorney General Andrea Campbell, State Representative Brandy Fluker-Oakley, Congresswomen Katherine Clark and Ayanna Pressley, Boston Mayor Michelle Wu, and Massachusetts State Auditor Diana DiZoglio.
About Whittier Street Health Center
Whittier Street Health Center is an independently licensed community health care center with a mission of providing high-quality, reliable and accessible primary healthcare for diverse populations while promoting wellness and eliminating health and social disparities. A champion of equitable access to high-quality, patient-focused care, social justice and economic equity, Whittier Street Health Center serves more than 30,000 patients and 20,000 community outreach visits annually; its ethnically and racially diverse patient base is primarily made up of individuals from Roxbury, Dorchester, Jamaica Plain, the South End and greater Boston. Approximately 28% of Whittier's patients are uninsured. Whittier Street Health Center provides a comprehensive array of 40 healthcare programs and services designed to meet the primary health care, behavioral health, and social needs of the community. For more information, please visit www.wshc.org as well as Facebook (www.facebook.com/WhittierStreetHealthCenter), Twitter (@Whittier_Boston), or LinkedIn (https://www.linkedin.com/company/whittier-street-health-center), or call 617-989-3221.
Contact Information:
Nicole Hales
President, PRfirst
nhales@prfirst.com
617-947-7983
Frederica Williams
President & CEO
events@wshc.org
617-989-3221
Original Source:
Whittier Street Health Center CEO Frederica M. Williams Honored During Black Women Lead Event at State House