originally published at Health - Purple Foxy Ladies
Epoch-Making Breakthrough of the Stem-Cell Nutritional Supplementation CD34 Nu-Signals®, Currently Undergoing Rigorous Clinical Trials Conducted by Prestigious Medical Institutions to Validate Its Effectiveness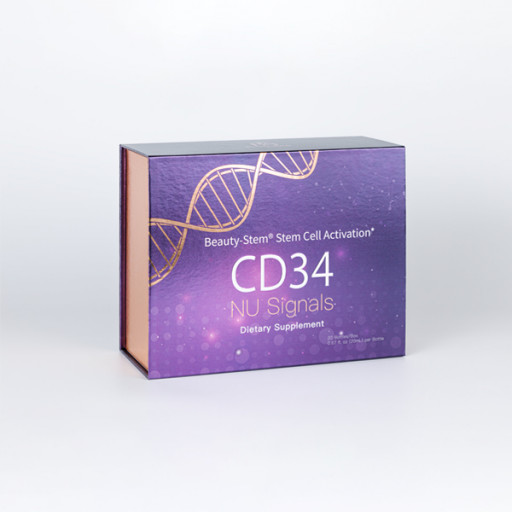 CD34 Nu-Signals
CD34 Nu-Signals, Currently Undergoing Rigorous Clinical Trials Conducted by Prestigious Medical Institutions to Validate Its Effectiveness
LOS ANGELES, June 23, 2023 (Newswire.com) - Beauty-Stem Biomedical, a natural food supplement researcher and supplier, has recently launched its revolutionary product, CD34 Nu-Signals®. This cutting-edge supplement is set to revolutionize the field of stem cell regenerative healthcare with its patented CD34 active protein and MSC exosomes. And it's also the first stem cell food supplement that is undergoing clinical trial with Taipei Tzu Chi Hospital International Medical Service Center.
CD34 Nu-Signals® is the result of extensive research and development conducted by Power-Stem Biomedical Research's team of dedicated scientists and researchers. Leveraging their expertise in natural food supplements, the company has created a product that holds immense promise for the advancement of regenerative food supplements.
"The key ingredient of CD34 Nu-Signals® is premium CD34 active protein, which plays a crucial role in the body's natural regenerative processes," said Dr. Chia-Chin Lin, founder of Beauty-Stem Biomedical and Power-Stem Biomedical Research.
The patented micro-liposome technology encapsulates regenerative factors, including GCSF (Granulocyte-Colony Stimulating Factor) and SCF (Stem Cell Factor) proteins. This approach has been proven effective in releasing mature stem cells, promoting autologous rejuvenation and enhancing immunity by numerous international research publications.
CD34 is a surface marker found on certain cells, including hematopoietic stem cells and endothelial progenitor cells. These cells have the remarkable ability to differentiate into various cell types and contribute to tissue repair and regeneration.
In addition to CD34 active protein, CD34 Nu-Signals® also contains MSC-48 exosomes. Mesenchymal stem cell-derived exosomes have gained significant attention in the field of regenerative medicine due to their potential to stimulate tissue repair and modulate the immune system. These tiny vesicles carry a range of bioactive molecules, including proteins, nucleic acids, and growth factors, which can enhance the body's regenerative processes.
By combining CD34 active protein and MSC-48 exosomes, CD34 Nu-Signals® offers a comprehensive approach to stem-cell regenerative healthcare. The supplement is designed to support the body's natural regenerative capabilities and promote optimal tissue healing. It can potentially benefit individuals seeking regenerative solutions for various health concerns.
"We are thrilled to introduce CD34 Nu-Signals® to the market," said Dr. Chia-Chin Lin. "Our team has worked tirelessly to develop a product with natural regenerative mechanisms. CD34 Nu-Signal® has the potential to revolutionize the way we approach regenerative healthcare and provide individuals with a safe and effective solution."
Beauty-Stem Biomedical is constantly pushing boundaries, collaborating with well-known medical centers, including Taipei Tzu Chi Hospital International Medical Service Center, to reach significant milestones in the clinical trials of the effectiveness of CD34 Nu-Signals.
Beauty-Stem Biomedical's commitment to scientific excellence ensures that CD34 Nu-Signals meets the highest standards of efficacy and safety. The company adheres to stringent quality-control processes and sources its ingredients from reputable suppliers.
Contact Information:
Ryan Huang
CEO
service.us@beauty-stem.com
888-341-7505
Original Source:
Stem-Cell Healthcare New Page: Beauty-Stem Biomedical Launches CD34 Nu-Signals Regenerative Food Supplement