originally published at Health - Purple Foxy Ladies
From the 13th to the 15th of June, Starrag will be exhibiting at the Orthopedic Manufacturing & Technology Exposition and Conference (OMTEC) in Chicago. On Booth 447, the world's leading machine tool manufacturer will demonstrate its expertise in this arena by showcasing the Starrag Bumotec 191neo.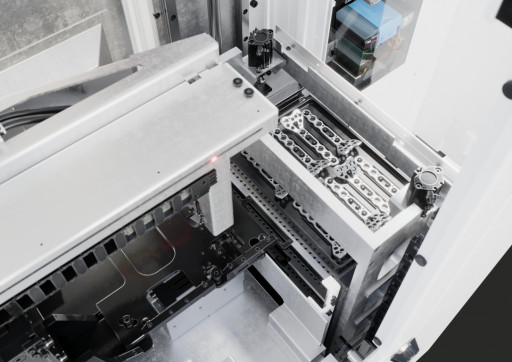 Starrag's Bumotec 191neo
Bone plate manufacturing on the Bumotec 191neo
HEBRON, Ky., May 2, 2023 (Newswire.com) - With 12 different variants built upon a single platform, the new Starrag Bumotec 191neo is a multi-axis mill/turn center that introduces a world of flexible and highly productive machining solutions. At the OMTEC exhibition, the Starrag Bumotec 191neo will be demonstrating just how flexible, productive and capable a machine it is with the one-hit production of a bone plate. Manufactured in volume throughout the medical industry, bone plates are particularly challenging to machine - but not for the Starrag Bumotec 191neo.
For manufacturers in the medical profession, the difficulty when producing bone plates is the ability to machine and subsequently finish the plates on all six sides in a single operation whilst striving for optimized cycle times and lights-out 24/7 production. On the booth at OMTEC, the machine will feed a 1.2-inch (30 mm) diameter titanium bar into the work envelope and deploy 20 different cutting tools to 26 operations to finish machine the bone plate in under 20 minutes. The challenge, as a medical device manufacturer would appreciate, is the complex machining of a long part between two stations whilst retaining perfect synchronization. Not only does the new Starrag Bumotec 191neo productively achieve this by machining the bone plates from bar stock in its robust work envelope, but it eradicates any requirement for secondary operations.
The epitome of high-end machining, the Starrag Bumotec 191neo will machine the bone plate at OMTEC in a single operation with impeccable surface finishes, leaving a part that is burr-free and free of tabs - and then delicately placing the parts into a collection receptacle for complete unmanned production. With such stringent regulations in the medical industry, machining bone plates with absolute confidence and quality conformity whilst delivering a completely automated production cell is exactly why manufacturers need to see the Starrag Bumotec 191neo at OMTEC.
The impressive new Starrag Bumotec 191neo is available in four versions, the 'P' with vice, 'PRM' with a multi-purpose pickup vice, the 'R' with a back-working spindle and the 'RP' with a combined vice and back-working spindle. Providing a choice of bar capacities of 1.7, 2, 2.6 inch (42, 50 or 65 mm), manufacturers can choose one of 12 machine configurations that are all based upon the same rigid and extremely robust.
Maintaining unparalleled thermal and performance stability during production, the Starrag Bumotec 191neo offers a formidable level of productivity. Compared to previous models, the new machine has a new tool change system that reduces changeovers by more than 15%. The machine also has a new milling spindle with increased torque and a back-working movement that is controlled by an electric motor. This combination provides the perfect blend of high-speed cutting with the power and rigidity for increased material removal rates whilst enhancing positional control.
The high-performance Starrag spindle is fed cutting tools from its 90-position tool magazine that now has an integrated tool breakage probe to support lights-out production runs. Further advancing the automation credentials of the new machine is the option of a traditional Bumotec palletizer or a robotic, modular or custom-made automated cell that delivers true '24/7' production, which is only interrupted by preventive maintenance when required. If you want to optimize your productivity with a completely flexible solution that can undertake the machining of a diverse range of component types, please come and visit Booth 447 at the OMTEC show in June.
Contact Information:
Elena Schmidt-Schmiedebach
Marketing Manager North America, Canada and Mexico
elena.schmidt-schmiedebach@starrag.com
+18593802356
Original Source:
Starrag's New Bumotec Machine Picks Through the Bones of Complex Manufacturing