originally published at Health - Purple Foxy Ladies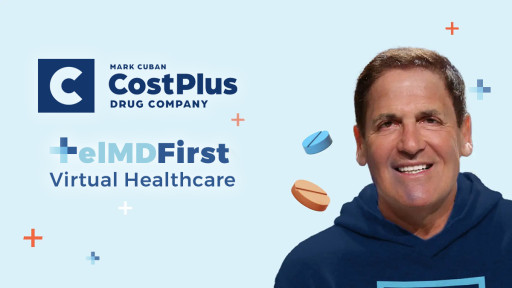 Mark Cuban Cost Plus Drug Company and TelMDFirst.com Join Forces
Mark Cuban Cost Plus Drug Company and TelMDFirst.com to Offer Affordable and Accessible Healthcare Services
NEW YORK, June 30, 2023 (Newswire.com) - TelMDFirst.com is one of the fastest-growing online doctor companies offering virtual consultations with licensed medical providers nationwide within 60 minutes by phone, text message or video. Mark Cuban Cost Plus Drug Company, PBC (Cost Plus Drugs) provides prescription medications at affordable prices. Together, they will now offer patients a seamless experience from consultation to prescription fulfillment.
"We are excited to work with Cost Plus Drugs to provide our patients with access to affordable medications," said Anthony Brunetti, CEO of TelMDFirst.com. "At TelMDFirst.com, we believe that everyone should have access to fast, quality healthcare with full price transparency, and this collaboration with Cost Plus Drugs will help us deliver on that promise."
Through this joint effort, TelMDFirst.com's 100,000 patients can now consult with a licensed medical provider and receive their prescriptions from Cost Plus Drugs at low prices, all from the comfort of their homes.
"We are excited to work with TelMDFirst.com to bring lower prescription drug prices to consumers," said Alex Oshmyansky, CEO of Mark Cuban Cost Plus Drug Company. "Cost Plus Drugs and TelMDFirst Virtual Healthcare share a common goal of providing consumers the lowest possible price for their prescription medication. With Cost Plus Drugs, consumers can be confident they are getting a fair price and the convenience of medication mailed directly to their homes."
Brunetti says he is "thrilled to be collaborating with Mark Cuban, one of the most innovative and successful entrepreneurs in the world."
About Cost Plus Drugs
The Mark Cuban Cost Plus Drug Company, PBC (Cost Plus Drugs) aims to fundamentally change the way the pharmaceutical industry operates. As a public-benefit corporation, its social mission of improving public health is just as important as the bottom line. Cost Plus Drugs transparently charges a standard markup on every drug it sells. The costplusdrugs.com online pharmacy launched in January 2022 now carries over 1,000 prescription products, delivered by mail to thousands of happy customers every day. Cost Plus Drugs is working with health plans, managed-care organizations, pharmacy benefits managers (PBMs) and self-insured employers to bring these same savings to employer-sponsored benefit plans nationwide.
About TelMDFirst.com
TelMDFirst recently secured funding from visionary startup investor Jason Calacanis. The investment is a testament to Anthony Brunetti's innovative approach to healthcare. With Jason Calacanis' strategic partnership, TelMDFirst plans to make an even greater impact on the healthcare industry.
For more information, please visit CostPlusDrugs.com and TelMDFirst.com.
Contact Information:
Anthony Brunetti
CEO
anthony@telmdfirst.com
‪(347) 815-4685‬
Original Source:
Mark Cuban Cost Plus Drug Company and TelMDFirst.com Join Forces to Offer Affordable and Accessible Healthcare Services