originally published at Health - Purple Foxy Ladies
A groundbreaking case report publication on the impact of rapid molecular testing on lung cancer patients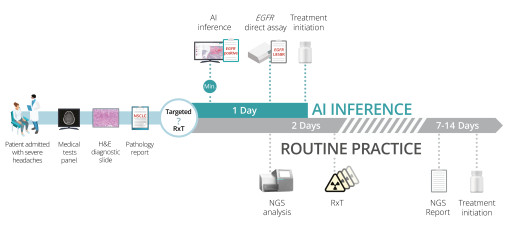 Schematic representation of the case
The adoption of new tools as AI-based molecular profiling in the clinical workflow has the potential to dramatically improve the routine pipeline and enhance the abilities of physicians to provide optimal patient care
TEL AVIV, Israel, July 26, 2023 (Newswire.com) - Imagene, an emerging leader in AI-based precision oncology, is pleased to announce the publication of a case report in the Journal of Clinical Pathology. The report, titled "Artificial Intelligence (AI) Molecular Analysis Tool Assists in Rapid Treatment Decision in Lung Cancer'' demonstrates the successful application of Imagene's AI technology in rapid molecular testing for lung cancer patients, conducted as part of a joint prospective study with the Pathology Department at the Sourasky Medical Center.
The case report describes two patients in their early 40s who were admitted at the emergency room with severe headaches. Brain MRIs and CT scans revealed suspected metastatic lung cancer that was confirmed by a biopsy analysis at the pathology lab. The patients needed immediate intervention and could not afford to wait for comprehensive genomic profiling results. To allow prompt decisions without compromising the small amount of remaining tissue, Imagene's rapid AI-based molecular testing was used as part of collaborative research.
Prof. Dov Hershkovitz, Head of the Pathology Department at the Sourasky Medical Center, said, "The ability to use Imagene's AI technology in these cases was a game-changer. It allowed us to bypass the usual lengthy waiting period associated with comprehensive genomic profiling. This technology is revolutionizing the way we diagnose patients, with the potential to improve outcomes and save lives."
The Imagene algorithmic inference identified, within minutes, positive EGFR mutation, from the biopsy H&E image. A subsequent rapid RT-PCR test for EGFR mutations was indeed positive, allowing for immediate targeted treatment initiation and avoiding the need for whole brain radiation therapy. Both patients' MRI scans after two months showed significant improvement with disappearance of the enhancement. A news channel also featured this case, including an interview with the patient. She shared her personal experience and highlighted the significant positive psychological impact that the rapid testing had on her.
"These real-life cases underscore the transformative potential of AI in precision oncology," said Dean Bitan, Co-founder and CEO of Imagene. "Our technology enabled the medical team to make a rapid, informed treatment decision, ultimately saving precious time and improving the patient's prognosis. We are proud to be at the forefront of this revolution, working hand-in-hand with leading medical centers on prospective studies to enhance patient care and impact patients' lives."
"One of the hardest things as an oncologist is to tell my patients we need to wait for a molecular diagnosis in order to start the optimal personalized treatment. It is groundbreaking to be able to have a molecular profile from the biopsy image within minutes," added Prof. Ido Wolf, Head of Oncology, Sourasky Medical Center. "With the help of the rapid AI-based diagnoses, we are able to navigate patients' journeys and make immediate informed treatment decisions that have such a great impact on our patients' lives."
Imagene continues to pursue the advancement of AI in precision oncology, providing innovative solutions that enhance cancer patients' care and streamline clinical workflows. This technology can make molecular testing accessible to all cancer patients, particularly those in under-tested populations.
About Imagene
Imagene is an emerging leader in AI-based precision oncology. The company leverages AI to profile, within minutes, a broad range of cancer biomarkers from a digitized biopsy image alone, providing physicians with immediate oncology intelligence to ensure optimal treatment for all cancer patients. Imagene's multidisciplinary team of data scientists, biologists, software engineers, and medical experts is committed to scientific excellence and collaboration, advancing precision oncology, and improving patient outcomes.
For more information, please visit imagene-ai.com.
Contact Information:
Avital Rabani
Head of Marketing
media@imagene-ai.com
Original Source:
Imagene's AI-Based Molecular Profiling Revolutionizes Lung Cancer Diagnostics: Two Patients Receive Immediate Targeted Therapy, Avert Brain Radiation