originally published at Health - Purple Foxy Ladies
The data provides insight on Work Relative Value compensation models and incentives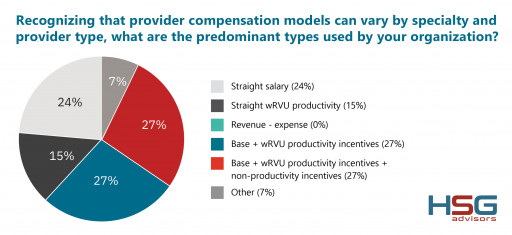 HSG Advisors 2023 Provider Compensation Survey Data
HSG Advisors 2023 Provider Compensation Survey results show predominant compensation models used by organizations.
LOUISVILLE, Ky., May 4, 2023 (Newswire.com) - HSG Advisors, a national healthcare consulting firm, released results and analysis of its 2023 Provider Compensation Survey — designed to gather key details behind changes in industry benchmarks and perspectives on compensation structure. The company will also release in-depth analyses of the results over the course of several months to assess different factors impacting provider compensation. The initial release offers new findings on Work Relative Value Units ("wRVUs") and wRVU-based compensation models and incentive structures, so healthcare leaders can make informed decisions as they update their compensation models.
To date, the survey has responses from more than 30 organizations across 13 different states. Of these survey respondents, over 70% indicated that wRVUs play a role in determining providers' compensation. Specifically, respondents indicated that the primary compensation model in their respective organizations is:
Straight wRVU productivity (15%),
Base + wRVU productivity incentives (27%), or
Base + wRVU productivity incentives + non-productivity incentives (27%).
"HSG conducts compensation surveys to glean real-time insights on changes in the fast-evolving provider compensation marketplace and provide guidance to healthcare leaders on how they can best respond to those changes," says Dr. Terrence R. McWilliams, Chief Clinical Officer and co-author of the survey report.
The survey results also cover responses to questions regarding COVID-19 impact, patient volume recovery, adoption of the 2021 Medicare Physician Fee Schedule, Fair Market Value considerations, and rate determinations. HSG's advice for 2023-2024 includes:
Consideration of the varied adoption of the 2021 MPFS wRVU values from organization to organization.
Evaluating compensation-to-wRVU alignment based on a predictive wRVU model that factors in pre-COVID wRVUs (i.e., 2020 reports based on 2019 data).
Focus on rate to determine the desired alignment of compensation and wRVU production.
Awareness that individual data points should not be utilized in a vacuum to set compensation per wRVU rates.
"Published compensation per wRVU ratios in the national survey data is a useful benchmark, but there is more to the story," McWilliams says. "HSG recommends a measured and intentional approach when determining the compensation per wRVU rates used in the calculation of thresholds (or targets) and bonus conversion factors, and we advise using the compensation and productivity tables to calculate rates."
The survey is conducted within the firm's core Compensation and Compliance service line. The report was co-authored by Neal Barker, Partner at HSG Advisors.
HSG Advisors is a national healthcare consulting firm headquartered in Louisville, Kentucky. The practice empowers leaders to build differentiated health system strategies and high-performing employed physician networks by pairing data intelligence with experienced advice. The firm's comprehensive approach to leveraging market facts to inform healthcare strategies allows leaders to understand opportunities and deliver the right care to their communities. For more information about HSG, visit www.HSGAdvisors.com or LinkedIn, email info@hsgadvisors.com or call (502) 814-1180.
Contact Information:
Karolyn Raphael
PR for HSG Advisors
karolyn@wingermarketing.com
312-494-0422
Original Source:
HSG Advisors Guides Healthcare Leaders With Newly Released 2023 Provider Compensation Survey Results