originally published at Health - Purple Foxy Ladies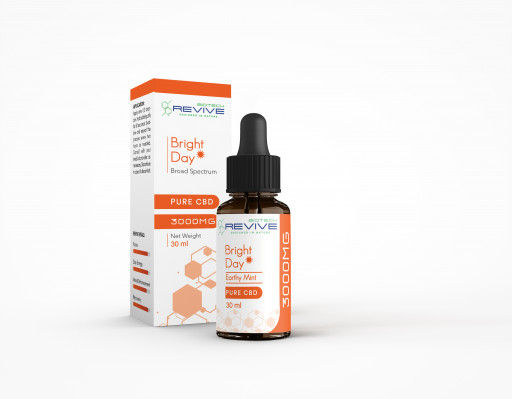 Revive Brightday
Revive Biotech Bright Day Tinctures
HOUSTON, March 6, 2023 (Newswire.com) - Houston doctors, Revive Biotech founder and CEO Dr. Sli Aboulkacem, PhD, and his Chief Medical Advisor and co-founder, Dr Jeffrey Pruski, DC, are proud to announce the launch of a new research-driven line of premium hemp and plant-based products developed to relieve pain, aid in recovery, and promote wellness.
The innovative product line was developed just outside of Houston by Revive Biotech, a cutting-edge health and wellness company headquartered in The Woodlands, Texas. The company is led by a team of pain management doctors, expert pharmacologists, and organic chemists who are working in partnership with renowned public universities and companies in the U.S. and abroad, to research and develop next generation hemp and plant-based products, formulations, and usage protocols for the world of recovery and wellness.
The Revive Biotech product line features powerful THC-Free pain relief topicals and wellness drops made with carefully selected ingredients that originate from distinguished hemp farms in Oregon. Each product is created with the expertise of a scientific, global research consortium who have brought together innovative ingredients, patented-technologies, and pure input-material to create safe, effective products that allow for faster delivery and high bioavailability with a complete preservation of the minor cannabinoids (CBV, CBT, CBN) and terpenes such as Eucalyptol, Limonene, Pinene, Cymene, Isopulegol, Y-terpinene, Caryophyllene.
"Our focus is to develop and manufacture safe, effective, top quality pain relief products using hemp and other natural plant-based resources that are the direct result of solid research," said Dr. Sli Aboulkacem, PhD, Founder and CEO of Revive Biotech. "Through our global research consortium and tech-innovations, we are breaking through a market saturated with varying qualities of hemp-based products to deliver well-researched, advanced solutions that are more effective and affordable for consumers."
The new Revive Biotech products include advanced technology balms, creams, roll-ons, drops, and gummies that offer varying strengths of the highest quality, THC-Free CBD derivatives to aid in pain relief, sleep, and overall wellness. Each custom product undergoes an extensive three-stage research and development protocol and a rigorous eight-step manufacturing process to ensure safety, efficacy, and compliance with federal regulations.
The innovative new hemp-based products are currently available for online ordering at https://revivebt.com. Revive Biotech will also be opening a retail store in Huntsville, Texas soon.
The leadership team at Revive Biotech is comprised of an impressive group of local, national, and international experts who specialize in organic and molecular chemistry, pain relief, physical medicine and rehabilitation, nursing, education, finance, global market strategy, and manufacturing and bio-delivery technologies of cannabinoids.
In addition to the U.S. market, Revive Biotech is now available in Australia and has successfully registered its products in Europe for future expansions.
For media inquiries, please contact Sherrie Handrinos at Sherrie@boostonemarketing.com or call 734-341-6859.
Contact Information:
Sherrie Handrinos
sherrie@boostonemarketing.com
734-341-6859
Original Source:
Houston Doctors Launch Revive Biotech Brand With Global Research-Driven Line of Hemp-Based Relief and Wellness Products