originally published at Health - Purple Foxy Ladies
Kentucky-based startup will provide informed health decisions surrounding diabetes and prediabetes diagnoses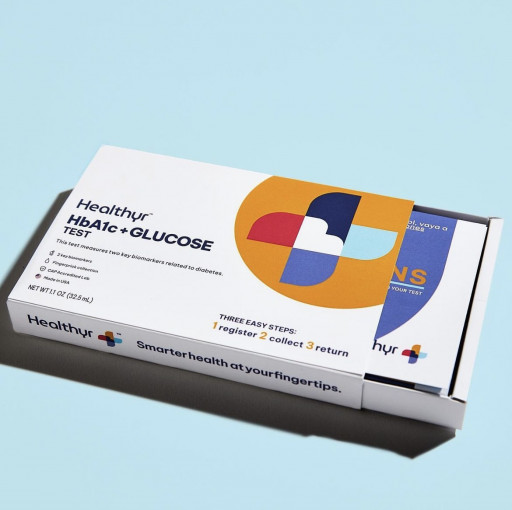 Healthyr HbA1c + Glucose Test
Healthyr HbA1c + Glucose Test
LOUISVILLE, Ky., March 2, 2023 (Newswire.com) - Healthyr has entered a year-long partnership with the American Diabetes Association (ADA) to provide at-home testing and actionable insights aimed at creating individualized, accessible care for people at risk for (prediabetes) and those who have been diagnosed with diabetes.
In 2019, 37.3 million people in the United States had diabetes. Of those, 28.7 million were diagnosed, while an additional 8.5 million Americans were undiagnosed. With more than 1.4 million people diagnosed each year, those numbers are expected to increase, along with the total cost of diagnosed diabetes in the U.S., which was $327 billion, in 2017.
At the same time, 96 million Americans (38% of the adult population) had prediabetes, in 2019—a condition that puts patients at risk of developing type 2 diabetes, heart disease, and stroke. Screening and regular testing of key biomarkers would play a significant role in both mitigation and management.
"Our goal is to connect the ADA's mission and Healthyr's vision to make the healthcare industry work for patients," said Stacey Finster, Founder and CEO of Healthyr. "By giving patients the power to make informed health decisions when it comes to diabetes and prediabetes care."
The Healthyr HbA1C and Glucose Health Test enables users to check two different biomarkers, which indicate a potential risk for type 2 diabetes, including HbA1c and Glucose. The fingerprick test examines average blood sugar levels to determine the relative stability over the previous three-month period. Healthyr testing kits provide people at risk for diabetes and those diagnosed, with options to take action to improve their health.
"Sadly, more than 96 million Americans have prediabetes and 8 in 10 of them don't know they have it. Fortunately, with knowledge and some lifestyle changes, people can better manage their prediabetes or type 2 diabetes," said Charles "Chuck" Henderson, CEO of ADA. "Healthyr helps equip people with the information they need to take actions that can reduce the risks associated with diabetes and improve their health."
"Knowledge is power, but information creates empowerment," added Finster. "Ultimately that's what we are seeking to create through this program: empowering people to make informed decisions about their own health, based on simple, easy-to-use tests they can perform in the comfort and privacy of their own home."
About Healthyr: Healthyr is a leading provider of digital health and wellness solutions. We are committed to making at-home patient care an affordable reality for the American public. Healthyr screening tests provide insights needed to make informed healthcare decisions about your body. Current Healthyr tests include: Athletic Performance Test, Cardiovascular Health Test, Comprehensive Health Test, Micronutrient Health Test, and Prediabetes Test. For more information, please visit www.BeHealthyr.com and follow us on social media: @thehealthyrco
Contact Information:
Doug Eldridge
Achilles PR
doug@achillespr.com
(202) 680 9375
Original Source:
Healthyr Announces Partnership With American Diabetes Association