originally published at Health - Purple Foxy Ladies
Flexibility and Collaboration Is at the Forefront of HealthAxis's Culture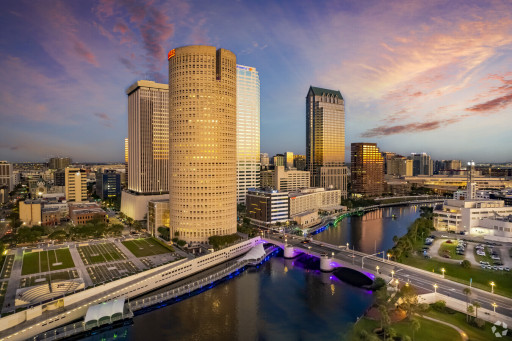 HealthAxis Corporate Headquarters
HealthAxis moves corporate headquarters to Rivergate Tower in Tampa
TAMPA, Fla., February 20, 2023 (Newswire.com) - HealthAxis is excited to announce that their corporate office is relocating to the Rivergate Tower. The tower is located along the Tampa Bay Riverwalk at 400 N Ashley Drive, Suite 920, Tampa, Florida. This new space is a remarkable place that will be perfect to collaborate and entertain current and prospective customers. HealthAxis plans to move into their new office in early March.
"We were looking for a place that reflects the new future of HealthAxis and the Rivergate Tower did just that. It is the perfect environment for our employees to thrive," said Matthew Hughes, CEO of HealthAxis.
HealthAxis is passionate about creating a culture that empowers their employees which is why they have a hybrid work model and work-from-home options available. This design offers employees more flexibility and freedom, giving them more control over how they work and where they work.
With 92% of HealthAxis's employees desiring a fully-remote option, they decided to downsize from their current space, which boasted over 200 employees pre-Covid. After conducting a thorough search and review of several criteria, they knew that the Rivergate Tower would be the perfect place for their team.
Angela Benmassaoud, Chief People Officer and a member of the selection team, says, "Having a comfortable setting for my coworkers and I to visit when we want work together has helped us create a collaborative culture where we can bounce ideas off each other and build off on one another's insights."
The new office will be a 'hoteling' workspace with 30 desks, two standing desks in each section, and five offices. When one walks through the floor-to-ceiling glass doors, the main focal point is a large conference room. Additionally, a creative zone exists for meetings, team building, and planning. In the layout, one will also see a small cozy space to use for lunch breaks, small team gatherings, or just taking in the view during a break.
About HealthAxis
HealthAxis is a leading provider of modern Core Administrative Processing Solutions and related software and services to healthcare payors. We offer our clients scalable and flexible solutions for their most complex challenges. Our next-generation enterprise solution suite combines our HxPro, core benefits administration software platform and HxOps, tech-enabled business process outsourcing capabilities under one unified offering. These solutions combine to make HealthAxis the leading partner for payors seeking reliability, innovation, and efficiency across their most mission-critical business functions. Visit HealthAxis.com for more information.
To learn more about the move or to ask questions, please contact Peggy Dell'Orfano at peggy.dellorfano@healthaxis.com.
Contact Information:
Peggy Dell'Orfano
Executive Assistant to the Chief Healthcare Operations Officer
peggy.dellorfano@healthaxis.com
888-972-2947
Original Source:
HealthAxis Moves Corporate Headquarters to Iconic Rivergate Tower