originally published at Health - Purple Foxy Ladies
Nurses can access relevant information at their fingertips, enabling faster and more accurate health issue identification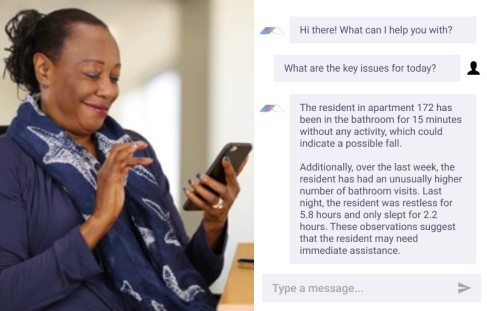 Caspar ChatGPT Integration
Caspar ChatGPT Integration
PALO ALTO, Calif., March 27, 2023 (Newswire.com) - Caspar, the leader in non-intrusive in-home sensing technology, has integrated ChatGPT, an AI-powered conversational platform, to enhance the caregiving experience for nurses and residents.
With ChatGPT's parsing of information from the Internet, nurses can access relevant information at their fingertips. However, a recent study by Alkaissi and McFarlane[1] highlighted that without proper context, ChatGPT's output could be misinterpreted or irrelevant.
This is where Caspar comes in. "Caspar's generative AI has access to 24/7 in-home data with which it builds a model for minute-by-minute behavioral predictions about residents, summarized in the form of alerts and observations for nurses and caregivers," says Corey Gates, VP of Engineering at Caspar. "When linked with ChatGPT's input layer, pertinent context is provided, enabling faster and more accurate issue identification."
The system is now available with the Caspar Care App on iOS, Android, and the Web. Using this seamless interface, nurses are providing better care to residents and improving their quality of life. With Caspar, caregivers are detecting issues related to sleep, restlessness, fall, etc. "Physicians and caregivers create interventions based on data and revise care plans," says Lee Ann Bailey-Clayton, Director of Health Services, The Forest at Duke.
"Caspar is excited to integrate ChatGPT and bring the conversational platform to the forefront of senior caregiving," says Ashutosh Saxena, CEO and co-founder of Caspar. "We believe that our combined technologies will help caregivers provide the best possible care for residents."
To learn more about this innovative solution and deploy it in your community, contact Caspar today.
[1] Alkaissi and McFarlane. "Artificial hallucinations in ChatGPT: implications in scientific writing." Cureus 15.2 (2023).
Contact Information:
Clark Lyons
info@caspar.ai
407-473-3617
Related Files
Caspar_ChatGPT_Integration_SeniorCare.png
Original Source:
Caspar's ChatGPT Integration Empowers Nurses with Interpretable Health Insights